Ecometry
When I read

Neil Armstrong's article

on how to automate database checking and have the exceptions delivered to the DBA by email, I had to try it on the

Ecometry

application databases.

Here is a sample of what the emailed message to the DBA would look like:

My job stream is the same as Neil's with the following changes: I added variables for the selection criteria of suspicious databases: !setvar _secondary 30 !setvar _loadfactor 80

I added the FTP routine to store the report.

And also build a nice email message to point to the report. The edits to this job needed for another Ecometry shop to use it are: substitute your MGR.SGAII password in the first line: !job jdbcheck,MGR/userpass.SGAII,MACSDATA;outclass=lp,3,1 Change the email parameters at the end of the job: -t is the To and -f is the From. address and s !comment ** Now, generate the email and send ** ! setvar who "aballo" ail"! run MAIL.TELAMON.SY ! setvar mailserver "
Ecometry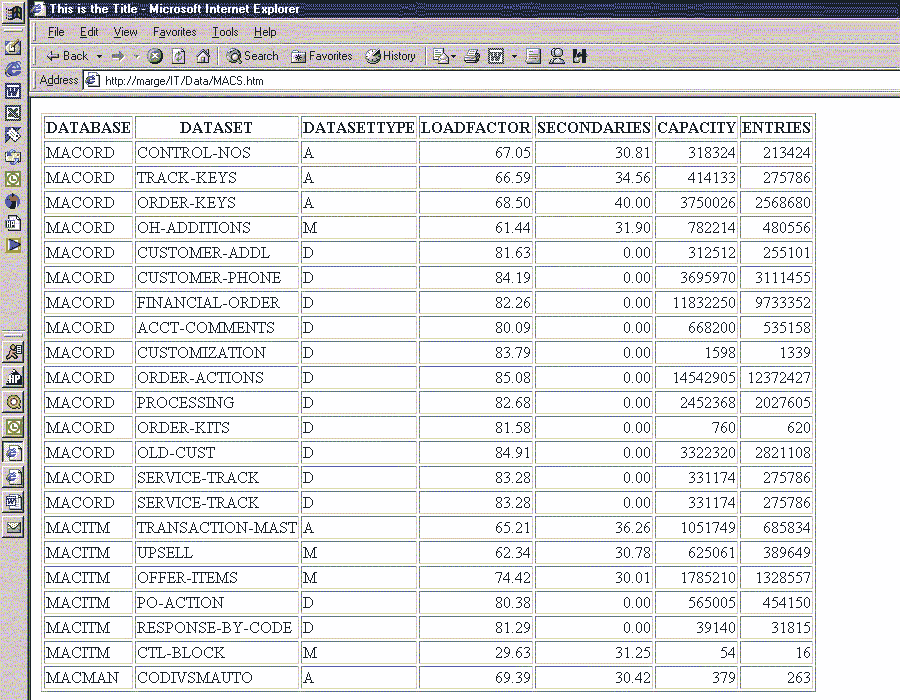 Ecometry
Ecometry
Ecometry
Ecometry
Ecometry
Ecometry
Ecometry
Ecometry